Oil Pressure Test Equipment
Vehicle Oil Pressure Gauge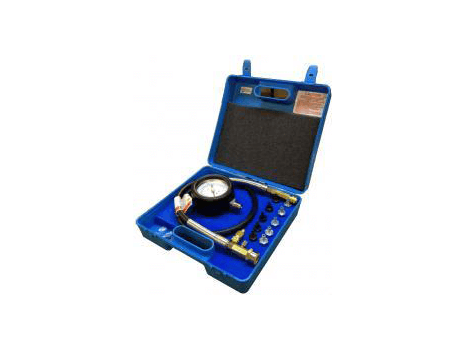 Our Oil Pressure Test Equipment includes the Vehicle Oil Pressure Gauge which is durable, protective and also portable.
Oil pressure testing up to 140 PSI using an accurate 4" gauge. Furthermore, adaptors provided for metric and imperial plugs.
2-metre hose to ensure excellent accessibility.
The kit contains:
140 PSI 1.0% accuracy 4" gauge (25% pressure overrating).
1 x 2m hose together with a quick-release adaptor overrated to 600PSI.
Adaptors include ½, 3/8, ¼, 1/8 NPT, M10, M12, M14, M16 c/w seals.
Durable, protective rubber cover over the gauge. (It will bounce)
12" x 12" Protective case and insert.
Installation, in addition to clear operating instructions, included.
Benefits:
Easy as well as portable testing of vehicle oil pressures.
Accurate testing using the 140PSI gauge together with divisions of 5PSI Bar.
2-metre hose to enable testing from all parts of the vehicle.
Quote available on request.
Email info@oakrange.co.uk or call us on 01709 542334.
Purchase Oakrange Test Equipment